Today we want to talk about the Suritt straps, leather straps compatible for Apple Watch, whose value for money will surprise you.

It seems to us that the quality price ratio of the leather straps of apple, is a little disproportionate, especially, for the classic belt model for the Apple Watch of 38/40 mm. For this reason, we began the search for an alternative that was of quality but that will not be priced. And that's how we got to Suritt, a manufacturer of traditional watch belts that for about a year has been introduced into the world Apple Watch. In Suritt we can find different models, later we will see, but the common to all of them is the great quality of its materials, the perfection to which it fits with the Apple Watch, and its affordable price without giving up the quality.
The most expensive model of Suritt leather strap is €59.95, which corresponds to the classic Apple model, whose price amounts to €159. That's a difference, isn't it??? The Suritt River model in Savemoney.es we have been able to have it in our hands, and see how it fits perfectly in an Apple watch, in addition to observing the great quality of its skin, and its finishes. All Surit belts are hand-made in Spain, and are made with genuine 100% natural cowhide leather of high quality. They are soft and resistant both inside and outside. They have a waterproof treatment to ensure longer durability.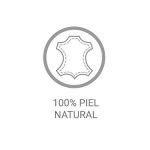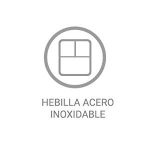 Suritt straps allow you to choose the size of your box, either 38/40mm, or 42/44mm, are 100% compatible with all Apple Watch models (series 1, 2, 3, or 4). Silver, gold, and black are the colors between which you can choose the color of the adapter, and the belt buckle, which are made of stainless steel.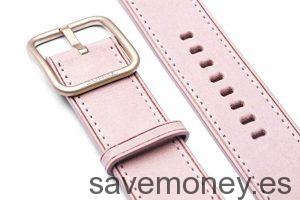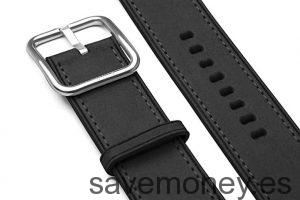 These are the models that are available on Suritt in leather straps for your Apple Watch:
River Model

: It is available i

n 6 color

s, black, blue, Night blue, pink, brown, and yellow. And, as we said before, you can combine it with 3 colors of buckle and adapter, black, silver, and gold.
Suritt Model Oslo

3: The leather strap of this model is availabl

e in black and

white, an

d is de

signed w

ith a p

yra

midal tack tha

t gives a very cool touch. and adapters, and buckle in black, silver, and gold.
The Prado 61 Limited Edition 3 mod

el is a desig

n inspired by Jorge Pr

ado,

the motocross

superstar of the Red Bu

ll KTM Factory Racing team

. It comes in orange with the inner lining in blue.
Suritt Belt Model New Wonder:

3 Colors, Bl

ue night, pink, and white

, with a s

kin

that carri

es engraved texture and a light glitter s

hine, a pass!!!
Suritt Strap Model Tokyo 3: Ice color, and peach color

, are the two skin tones in which this model of strap comes, in addition to wear

ing a stitching throughout it.
If all this has seemed little, you know that Suritt has two more models that are not leather, but also have some qualities, and very good prices:
Sport Camo Straps: This is the sportiest model, they are made in a soft silicone with a camouflage design where you can choose between three colors, blue, green, and grey. Look how cool!!!!