Samsung Galaxy Tab S4 is now on sale!!!! The new Samsung tablet is renewed, and improved to suit the pace of life we carry.
Samsung Galaxy Tab S4, for the first time on a tablet, takes Samsung DeX, which translated so that we all understand, is that it offers the productivity of a computer. Through an HDMI adapter you will be able to add a keyboard, a mouse, or even a monitor, if you need it.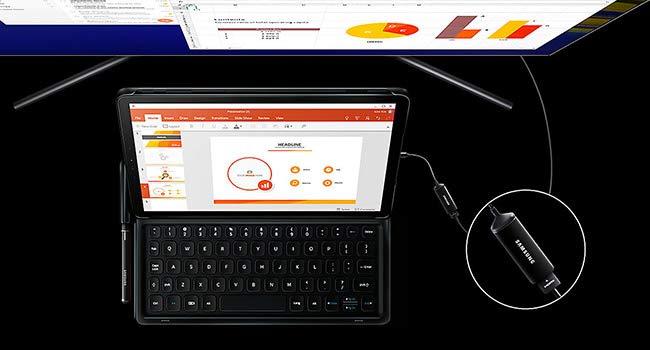 As far as the characteristics of the tablet itself are concerned, it is worth mentioning that it comes with a larger screen of 10.5 inches, as well as having AMOLED technology to improve the image quality.
Security with Samsung Galaxy Tab S4 you have it insured thanks to its biometric authentication system by identification of Iris and face. Another important factor that we like to highlight of the tablets is the ability. With all the information we accumulate on these devices everything that is GB are not enough. In this case, Samsung Galaxy Tab S4 comes with 4GB of RAM, and 64 GB of internal memory, but eye!!!!! Extendable up to 400GB via MicroSD card.
Samsung Galaxy Tab S4 comes equipped with loudspeakers that have been manufactured in collaboration with the prestigious AKG brand. The sound is a pass, enveloping, and realistic, you enjoy music, or movies, more than ever.
With all these features, as Samsung knows you're going to give a lot of cane, has improved the hours of autonomy, so, you will have up to 16 hours of battery. And if you need more, no problem, Samsung Galaxy Tab S4 has fast charge, in just over 3 hours, you will have full load your tablet again. Another novelty that brings Samsung Galaxy Tab S4, and that we find very useful, are the new features that brings the S Pen. On the one hand, there is the Air Command function that can be used to translate words and phrases by simply passing the S Pen above. Languages are no longer a problem for you.
Also, with S Pen you can take notes without having to turn on the screen. This function is called Screen-Off Memo. At first glance may seem like a nonsense, but if you use the tablet as a computer, and habitually in your day to day, you will be very useful.
It is clear that Samsung is constantly working on improving the characteristics of its devices, and always does so by providing utilities that, for the user, turn their devices into some of the best in the market. Next, we leave you the Savemoney.es table for you to buy your Samsung Galaxy Tab S4 in the country where Amazon has the lowest price: [Savemoney asin = "B07GP6HPT5"]