As you know the new Samsung mobile was already the sale. But what are the novelties of the new Samsung Galaxy S9?
In today's post what we are going to do is tell you the most important features of Samsung Galaxy S9, and Samsung Galaxy S9 Plus.
The most innovative of these two phones are their cameras. The rear camera is a Dual pixel super Slow-mo 12 megapixel with an aperture F 1.5 that will make you take pictures even in the dark.
Your photos will come out with a glow that'll surprise you even in the pictures you make at night. The camera of this new Samsung Galaxy S9 will surprise you more than you can ever imagine.
As for the Super Slow-mo What it does is capture to the small details that you lose when you blink. You can also make videos with the music you want.
The front camera for your selfies is 8 megapixels, and with a front opening F 1.7. You're going to have some amazing selfies.
Another novelty of Samsung Galaxy S9 is that your camera allows you to transform into a emoji. Now it will be more fun to keep conversations, and to send your personalized emoji according to your mood, or whatever you want to express.
Samsung Galaxy S9 has a smart scanner that combines facial recognition with the iris scanner. Both of these things make it easier to unlock, even when you're in a low-light place, and it's safer because in order to unlock it you're asking for two patterns. It also carries the fingerprint sensor, of course.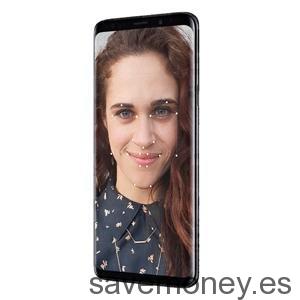 Another feature that we found in the previous Samsung model, but we would also like to comment, is its resistance to water and dust, as it has IP68 certificate. It may seem silly but this warranty can save your phone from any carelessness you have, and that can make your mobile get wet.
As far as capacity, either of them is expandable via microSD up to 256GB.
And, to finish, and before showing you the different colors in which you can buy your Samsung Galaxy S9, we want to talk about the high quality of your speakers with great surround sound thanks to the Dolby Atmos sound of your AKG speakers.
Well, there go the Savemoney.es tables with the different models of both the Samsung Galaxy S9, and the Samsung Galaxy S9 Plus, so you can locate the country where Amazon has its lowest price: