You know that you already have the new Nokia 8 without having to wait until it goes on sale in the shop of Nokia? As if, at Amazon you can get it already, without having to wait for nothing more than the time that it takes to get you the order to your home.
So, if you know the characteristics of the new Nokia 8, we will begin showing you the comparative of Savemoney.es table so that, in addition to your purchase, you can locate the country in which Amazon has their best offer, and thus be able to buy it at the lowest price.
In terms of offering this new Nokia 8 tell you that comes stomping pretty. Nokia has been the batteries this time, and its objective is that its new Nokia 8, is one of the most sold mobile.
We don't like to do post releasing you long speech characteristics, and explanations that you can find anywhere else, but if you are going to do a small summary of the highlights of this new Nokia 8.
Nokia 8 outside comes with a display of 5.3-inch QHD resolution is made in aluminium, and carries a fingerprint reader.
As for your camera, Nokia 8 carries a dual camera, pretty good, that will allow you to save your best moments with great image quality. And it is that this Nokia camera consists of two sensors one 13 megapixel RGB, and other monochrome 12-megapixel. In addition the lens is a Carl Zeiss, has an opening of f/2.0, and flash double tone. Go on, what you said at the beginning, you'll have some pictures of incredible quality with the new Nokia 8.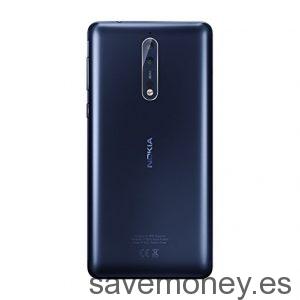 Ah well, and a very cool thing purdes do with Nokia 8 is what has been called Dual Sight, and that it allows you to record videos with the camera front and rear at the same time, they will do the so-called Bothie.
Nokia 8 is equipped with an eight-core processor, so you can surf the internet without problems, and quickly.
In terms of the ability of this phone, it comes with a RAM of 4 GB, and a storage capacity of 64 GB, which is expandable with a card micro SD.
And, to put an end to the most important features of the new Nokia 8, tell you that if you are of those who you give it enough cane to mobile, not worry about the battery because in addition to last you quite, loaded quickly, thanks to its fast charging system.
As you can see, this Nokia 8 features are very interesting, so if you are thinking about changing mobile no discards the possibility to get the new phone from Nokia: