Amazon already has new Kindle! The new Kindle Oasis goes on sale on October 31 but you can already make your reservation free of charge.
And what is the great novelty of the new Kindle Oasis? The big news is that it is water resistant!
Amazon continues to believe that any time and any place is good to spend some time reading, therefore, so nothing is a problem, in fact this Kindle Oasis water resistant aluminum, so that even enjoying a pleasant bath, you can relax reading a book.
Kindle Oasis has a degree of IPX8 water protection, and resists fresh water dives to a depth of 2 meters for an hour. It is also designed to withstand splashes of water on the beach, or falls in the tub, or in a hot tub, or in a pool. If you think of something for this out quickly, and follow the instructions on maintenance of Amazon, where they explain exactly how you have to proceed in a case of these.
In addition to this great innovation, Amazon has strengthened all its features, why, now its battery lasts for weeks, and account with a fast charge mode, so that in only two hours can have your Kindle Oasis charged to 100%.
Also has grown slightly with respect to its predecessor, and now 6 inch happens to have 7. To give you an idea of what supposed this inch more, you will have that this increase is that on the screen take up to 30% more text, which means that books have fewer pages, that avoids having to be continually moving leaves.
Compared to the rest of features it still maintains its good image quality, which allows it to read as paper, glare-free. Your little weight, which makes it very light, and you can hold it with one hand.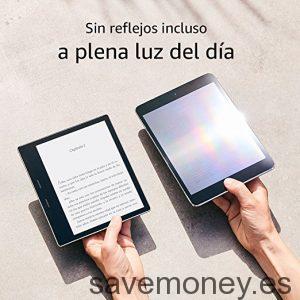 If you are looking for an eBook, new Kindle Oasis is a great choice, it is the very best that are now on the market. So, then, you leave the comparative tables of Savemoney.es with different models that you have available the new Kindle OASIS:
Remembe
r that any of them can
book you without ha
v
ing to pay anything in advance, and
as soon as it goes on sale on October 31, Amazon will send it on the way to your House.