It is the turn, once again, to speak of more news from Amazon. This time the objective of Amazon compete with Spotify, and this has created Music Unlimited.
With Music Unlimited you can listen to all the music that you want, and you will be only from €9.99 per month, that if, as it could not be otherwise, comes with a couple of very interesting promotions, and that here, at Savemoney.es, are going to have.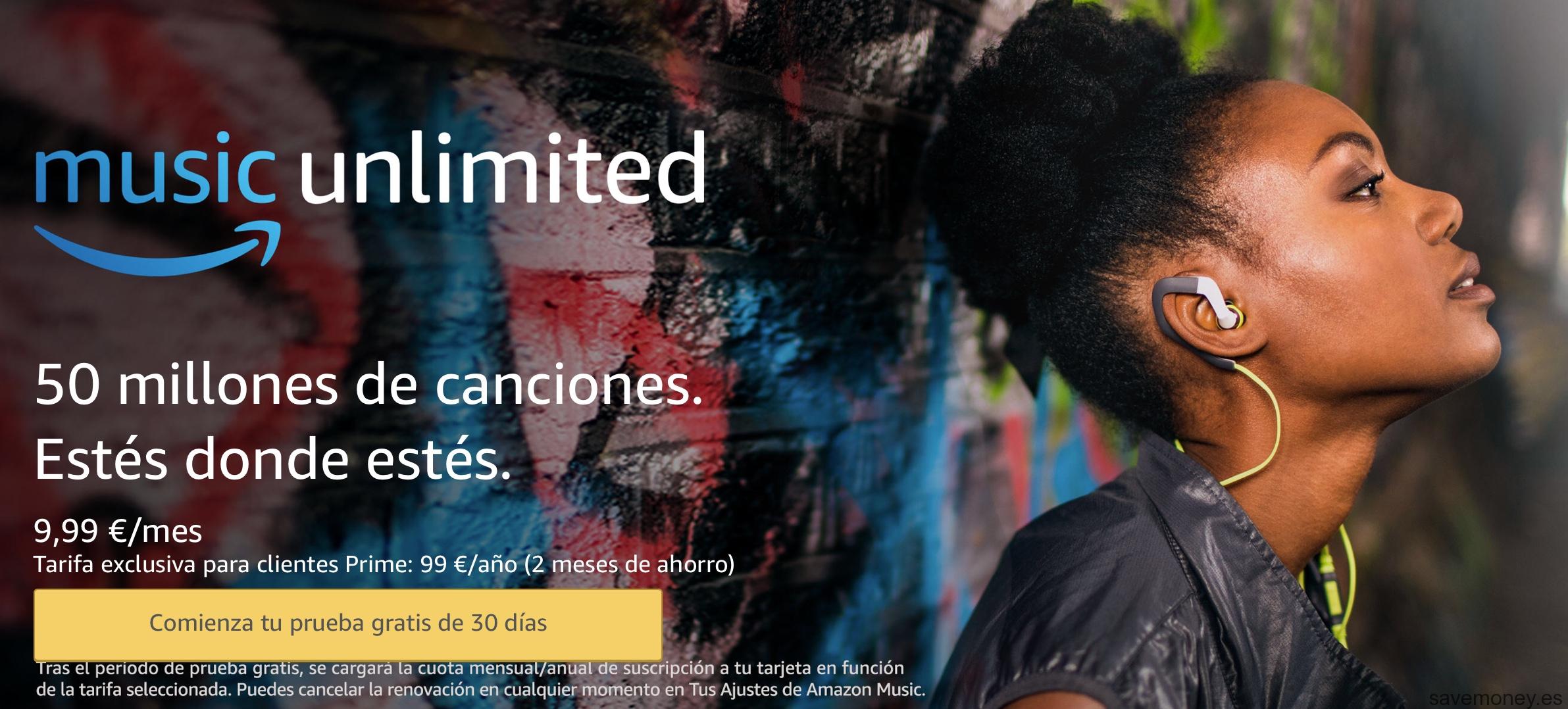 But before anything, reminding you that access to these promotions, you have to be Amazon Prime. How? What you're not still Prime? And are you waiting? You have not ever been? This leverages other promotion, and already begins your registry on Amazon Prime free of charge during 30 days trial.

During this time you will enjoy all the advantages that it has to be of Amazon Prime, and we are convinced that, molara you theme, and end up renewing your subscription. And it is that, only taking into account what you save on postage, it will compensate you pay the €19.95 which is the fee for Amazon Prime.
Return to the Music Unlimited tell you which features a repertoire of more than 50 million songs, almost na!
The most important thing you should know is that Music Unlimited is available for all types of devices Fire, iOS, Android, web, PC, and Mac. So, you have the operating system you have, you can download Unlimited Music from Amazon, and all the music you want to listen. And Yes, you read correctly, we have said to download, because Music Unlimited not only allows you to play music when you have a connection, but you can also download all the music you want to play when and wherever you want.
In addition, with Music Unlimited can customize the contents of reproduction so that only play the music that you like, and most importantly, you can hear all the music flip because Music Unlimited does not carry ads.

Moreover, works very similarly to Spotify, you can choose disks, or loose songs, create your playlists, choose from the lists, or stations, created by Amazon, even Amazon music based on what you go playing propose you.
And now we are going to tell you the special introductory offer that we told you about at the beginning, and it is that all those who are Amazon Prime may have 30 days free trial on Amazon Music Unlimited. Already started your free registration on Amazon Music Unlimited, and hurry because this promotion is only available until October 14.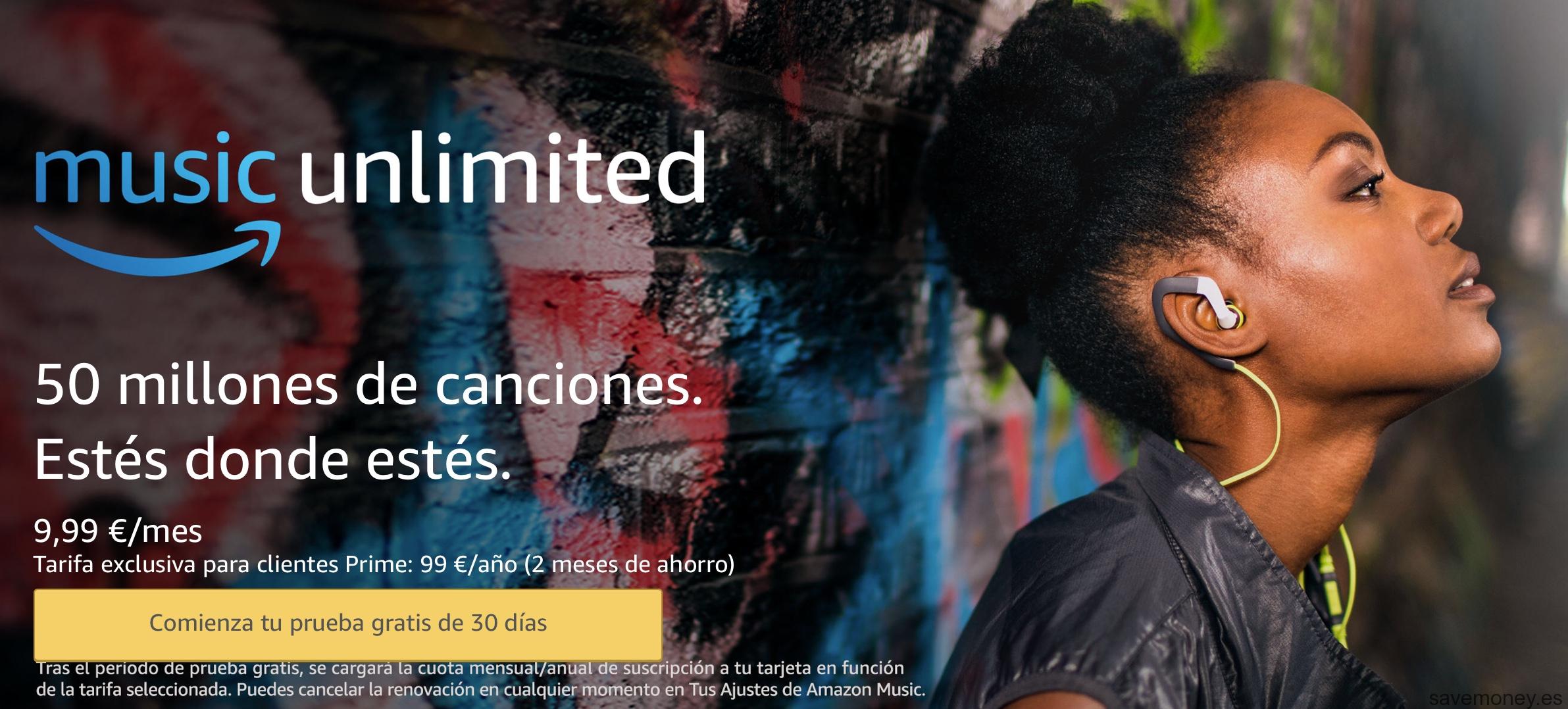 Once they have passed the 30 day trial, will be renewed automatically unsubscribed, charging your account the amount of the annual fee. Peeeero, here comes another promotion, and is that you will be able to access €10 discount.
For these €10 discount, the only thing you have to do is click on the image then we're going to show, and renew your subscription if you are that you have agreed to the test, or subscribe new to any Amazon Music Unlimited service :
Remember to click on the image of the promotion you have previously shown that you apply automatically €10 discount on your subscription to Amazon Music Unlimited. And you do not delay in doing so because these promotions end on October 14 to 23:59 hours.
Now, to finish, let know you the cost of the new service Unlimited Music from Amazon to the Amazon Prime, which is €9.99 if you pay monthly, or €99 if you decide to pay once a year, saving €20.88 with this annual fee, will, in other words , payable annually is like if you pay only 10 monthly payments.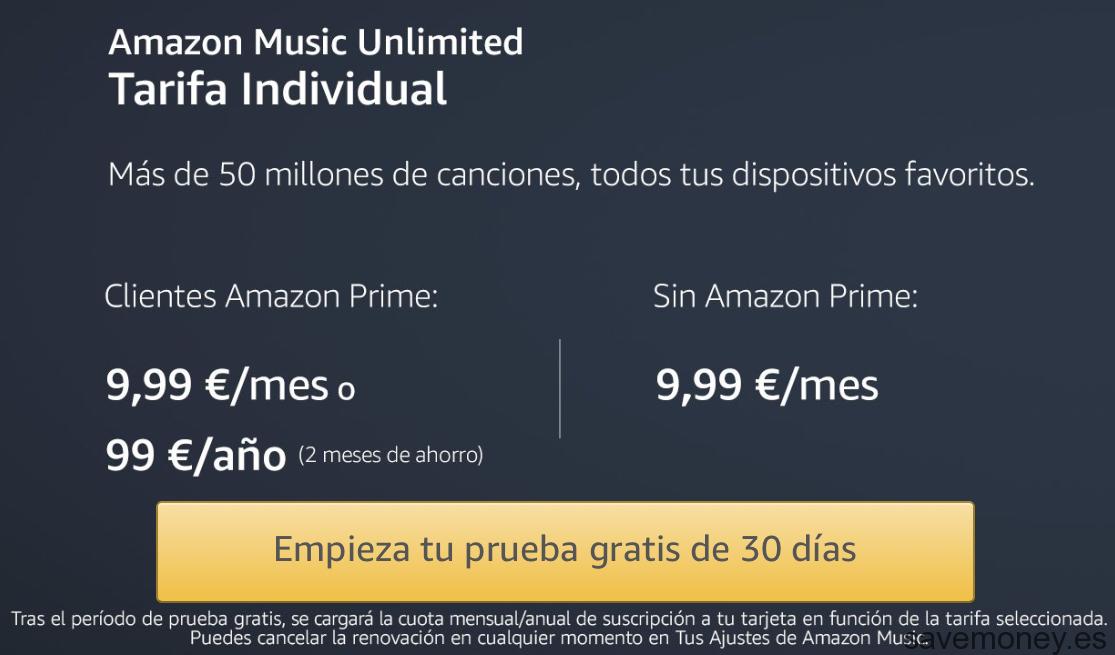 We still have one rate more, but is there a family Plan, so that they may be subscribed to this plan up to 6 people, and all of them can be connected at the same time from their devices without any problem. This fare sale for €14.99 per month, or if you choose to pay annually, you will save two monthly payments, and pay €149 per year.
This latest plan is highly recommended if you can meet up 6 people because she thinks that it would be you each for €24.83 per year. Or said in another way, by little more than €2 per month can listen to throughout the year the music you want, wherever you want and whenever you want.
Ahh, important, as you can see, at all times, we are talking about rates for those who are Amazon Prime, because if you're not only you can access monthly rates, i.e. can pay € 9.99 per month for normal subscription, or pay €14.99 per month for a family Plan.
As you can see, it is worth being of Amazon Prime, so I you or think it to me, and would now begin my free 30-day trial registration on Amazon Prime.
And if you already have Amazon Prime start your free trial period on Amazon Music Unlimited.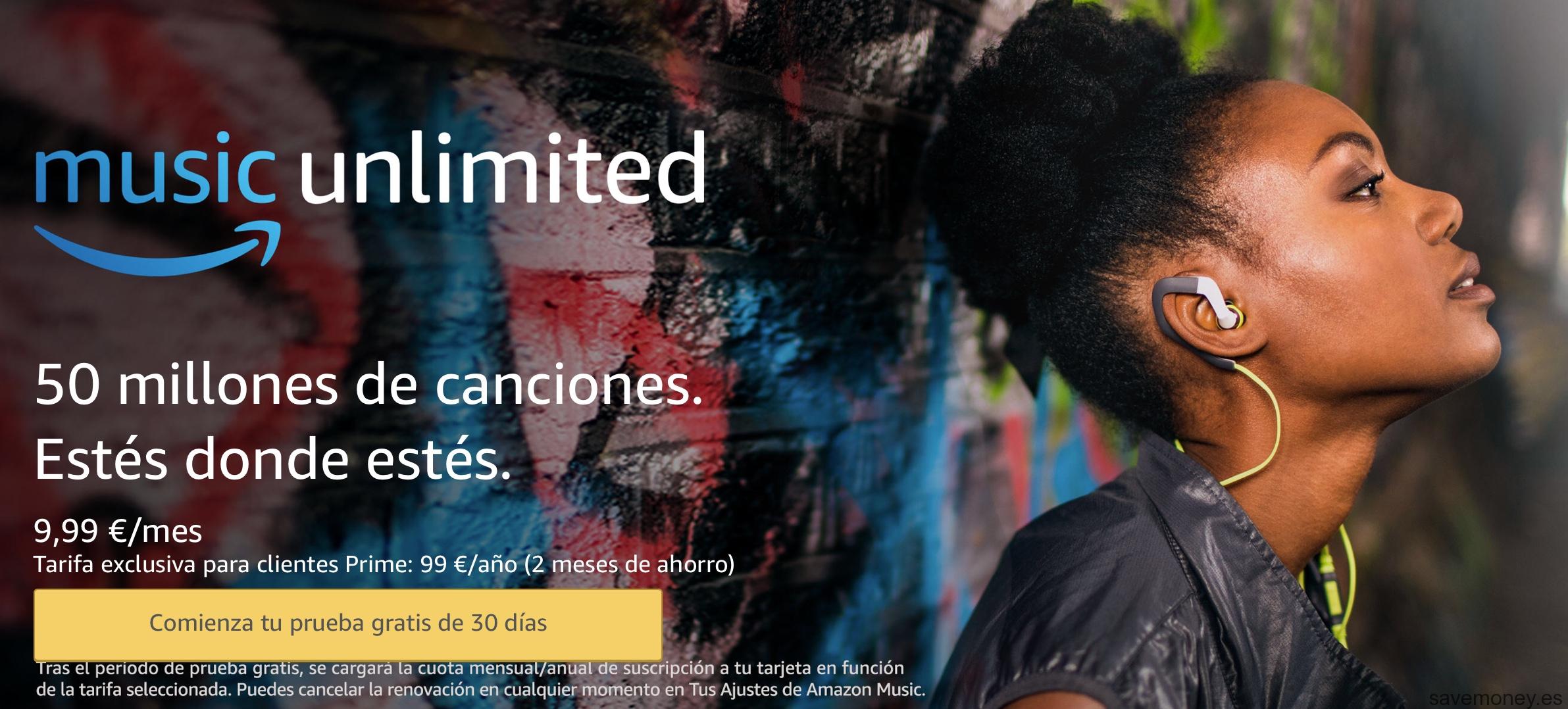 Once completed your trial period do not forget to click on the image that we show you below to obtain €10 discount on your subscription to Amazon Music Unlimited.