The coffee capsules each time is are renewing more, and each are more practical, useful, and necessary, above all, to the rhythm of life that we. Philips is one of the manufacturers that more work in this respect, and increasingly create new coffee makers with more possibilities, as well as offering rich coffees. And this is what today are going to talk about, the last maker created by Philips called Senseo Switch, or Senseo Up, as it has been called in some countries.
What is the novelty of Senseo Switch? Because that is not only a coffee capsules to make coffee Espresso, but is also a drip coffee maker that allows you to make coffee by introducing the coffee that you like.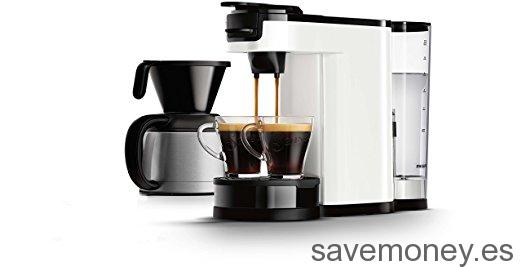 Choose from the features available in the coffee maker Senseo Switch is as easy as pushing a button. In this way you can choose between 3 functions that it has available, espresso mode, double espresso or filter mode. In other words, coffee maker Senseo Switch can use Senseo pods, or introduce ground coffee, with function mode filter.
If you choose to filter mode, you can see how coffee, you can take advantage of being saved in a stainless steel thermal carafe. This thermal carafe is not a conventional pitcher that come in other models of drip coffee makers, but it is much more ready to keep the coffee made for longer at the right temperature.
Another feature of this thermal carafe from the coffee maker Senseo Switch is its ability which is 1 litre. To give you a better idea, this translates into about 7 cups of normal size.
Oh, and also filters that are the usual size, so you won't have trouble finding the replacement filters needed for this coffee maker.
Returning to the characteristics of this coffee maker Senseo Switch presents a normal design with water in back tank, and an anti drip tray.
A convenient point of the coffee maker Senseo Switch is that your water tank has a lid so we just have to remove it to fill it directly from water without having to be away from the coffeemaker. If you have not had before coffee machine of this type, this may seem silly to you, but I guarantee that it is very useful.
And you're thinking, and to clean the coffeemaker? Senseo Switch is good even for this because you can get all the parts that are removable in the dishwasher!
Well, it's cool or not cool? As you can see, you are not deceiving at the beginning of the post, and it is the main advantage of the Senseo Switch give you the possibility of doing two modes of coffee. Not having to rely exclusively on capsules is its biggest advantage. Over is not a complicated handling coffee, it is as simple as pressing one button or another.
So, what are you waiting? You didn't want a coffee capsules but he pulled you back always depend on the use of them? Senseo Switch is the solution, when you feel like you can take your favorite ground coffee, or you can have the coffee offering the capsules Senseo.