If you live in a big city where getting into the car is impossible mission, a great solution is to go by bike, and if the bike is much better foldable because it will allow you to resort to public transport when you are interested, and save easily, without thinking where you go.
The folding bikes are getting very fashionable precisely because of the versatility that we had before. Not only has the advantages of a normal bike, but also you can fold them, and go with them wherever you want.
As for the models and prices, there is a great variety, so choosing a suitable model is not easy. In Savemoney.es we have decided to help you, and to do this, besides showing you a selection of folding bikes that you have to take into account, we want to tell you the most important factors to take into account when choosing the folding bike model.
The first thing to keep in mind is that a folding bike is for what it is, you can not expect the benefits of a conventional bike focused on sport. Now, a folding bike allows you to move wherever you want, and save it wherever you want.
That said, and once you have clear that that is the use you want to give your bike, when choosing a model of folding bike, the first thing you have to fix is in the folding clasp, and deployed. Its closure has to be completely fixed, and with good screws. The best latches are those that use the force of the lever to lock, and a pin to unlock, are the fastest and safest.
The size of the bicycle once folded is another important factor. There are manufacturers that give importance to the wheels, and therefore, they maintain a large size. Instead, other manufacturers to make their bikes lighter, and transportable, sacrifice this factor to make them more manageable.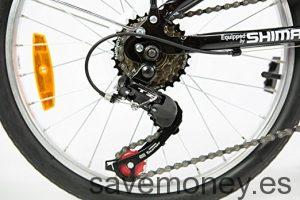 Both would be good bikes but you have to assess the use you're going to give. If you want a bike to take on the train, or in the car, you better use smaller models, instead, if you just want to fold your bike to save it, you can go to a larger wheel size.
Then there is the subject of the weight of bicycles, here are the materials with which they manufacture. There are models made with carbon fiber weighing around 9 kilos, up to those that are made in other materials that already weighs about 15 kilos.
As you can see, there are only three factors that you have to look at when choosing the right folding bike for you.
To finish the post today, we will show you the models of folding bikes best sold by Amazon, and whose score given by users give a very good rating: