Already a while ago in the post "Amazon business: Amazon for Business" We talk about Amazon business, the great novelty of Amazon that allows companies to buy at Amazon with the best payment terms, and at the best prices. Now, only thanks to Savemoney.es, you can access the promotion with which you will enjoy a 50% discount when making your first purchase up to a maximum amount of €100.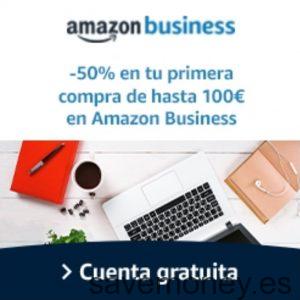 This discount will only be obtained if you create a free account at Amazon Business via this link:
Once you have made your registration, within approximately 3 working days, you will receive an email with the promotional code you have to enter at the end of your purchase process. Important!!! This promotion is valid only if you create your account by the next May 14th, 2019. Once you receive your promo code, which is activated after 48 hours since the Amazon Business account is verified for your company, you can use it only once before May 18, 2019. It doesn't matter if your company is big, small, or medium, Amazon Business is just thinking about making purchases easier for entrepreneurs. Companies in Amazon Business have a wide variety of products at the best prices, and with free shipping. Amazon Business automatically performs VAT billing. In addition, payments are tailored to your needs, you can share the methods of payment with more users, or with all your equipment, to do easier. It has simplified purchasing processes to make your purchases faster. And you can control your company's spending by setting purchasing limits, and you can even integrate the purchasing system you use in your company at Amazon Business. If you need more detailed information on Amazon Business you can do so by going here.
Remember that making an Amazon Business account is free of charge. All the advantages that we have talked about before, have no cost. Not bad for a start, right???? Free account, and a discount on your first purchase. Well, what are you waiting
for????? Create your free AMAZON BUSINESS account